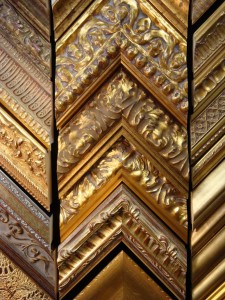 Frames are the fun part of framing! The perfect frame should enhance but never overpower the art and can make even bad art look good! Frames have a rich and amazing history, from early simple designs to elaborate designs relating to the art that were carved into rare woods and perhaps gilded with gold. Today there are countless options in appearance, quality and pricing.
Metal frames are usually less expensive and more casual than wood frames. There are some great new designs and  colors in metal frames. All the metal frames carried at Things Worth Keeping are by Nielsen, the premier metal frame manufacturer.
Wood frames provide beautiful presentation for any art. They are available in just about any type of wood and/or wood finish as well as metallic or painted finishes. There is a wide variation in pricing based on the type, width and design of the moulding. Many frames today have a wood base with composition detailing. Things Worth Keeping displays about 1200 frame samples to choose from and has acccess to thousands more! Larson-Juhl, Designer Woods, Studio Moulding, Max Mouldings and Omega are just a few of the moulding companies that are carried.
Some people enjoy looking at all the samples and choosing their favorite while others prefer to give a few preferences and take advantage of the complimentary designing that is offered. Often art is left for a few days while design options are chosen so the customer is able to view and choose their favorite from a few choices rather than thousands of choices.