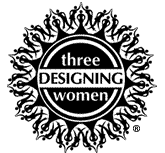 Three Designing Women are the innovators of customizable self-inking stamps. Available in many unique, sophisticated designs, the stamps can be fully personalized with address information, family names, name and monogram or designed as book plates, birth or moving announcements.
Also available from Three Designing Women, a complete line of fresh, colorful paper products designed to coordinate with the custom and monogram stampers-and now embossers.
These women know how to have some fun with custom rubber stamp and elegant embosser designs! They are unique, fun, upscale and a great gift for those who are have almost everything! The stamps are $45 and the embossers are $65, and they have many fun accessories as well! You can browse their website ( www.threedesigningwomen.com ) to see all the great choices and options but they don't sell direct; Things Worth Keeping is the exclusive TriCity dealer. Please call if you have questions or want to place an order!